XMOS Offers Hi-Res Audio Processors
xCORE-AUDIO Hi-Res processors offer high-resolution audio interfacing capabilities to deliver precise output with low noise/distortion for soothing, high-quality sound at a price-point that is affordable for mass-market consumer audio applications.
xCORE-AUDIO Hi-Res processors support the full range of Hi-Resolution file formats, including PCM audio encoded at 384kHz/32-bit and DSD 2.8 MHz/5.6 MHz audio using any PC or MAC.
The built-in USB interface supports a wide array of digital devices, including iPod®/iPhone®/iPad®1 devices, PC or Mac®.
GPIO are available for implementing Human Machine Interfaces (HMI) and/or the control of external audio ADC/DAC devices.
xCORE-AUDIO Hi-Res is available in easy-to-use 64-pin TQFP packaging for low-cost system integration.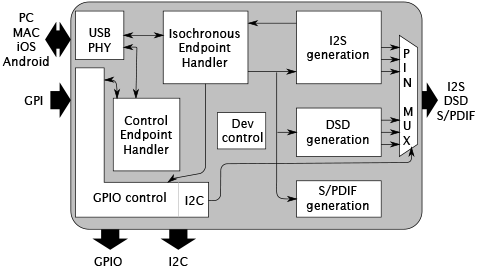 Hi-Res 2 block diagram
Development Boards
Documentation
xCORE-AUDIO PROCESSORS
PART #
AUDIO
INTERFACE
GPIO
OS
PACKAGE
DATASHEET
XHRA-2HPA-TQ64

PCM ≤384kHz at 16, 24 or 32bit
DoP64 and DoP128
S/PDIF output ≤ 192kHz, 16/24bit resolution

2 high resolution channels out
Asynchronous Isochronous transfers
Self-powered with Apple charging

8 GPIO system control
8 GPIO for HMI with optional HID inputs
I2C master for configuration and control

Windows
Mac OS X
Apple iOS (Apple Host Mode)
Android

TQFP64
datasheet
Back to News